We looked into Digestive Enzyme on the basis of its ingredients, customer reviews, and more. Does Digestive Enzyme really work? Read the Digestive Enzyme review here!
What Is Digestive Enzyme?
Nucific Digestive Enzyme helps your body absorb foods more smoothly and efficiently, so you may eat more of your favorite foods with less gastrointestinal irritation and get the most nutrients from them.
How Does Digestive Enzyme Work?
Digestive Enzyme is made up of a special blend of 16 powerful digestive enzymes that help your body break down any type of food so you can obtain the most nutritional advantages from it while also having smoother, more comfortable digestion.
Supports Smoother Digestion – Amylase, Diastase, Glucoamylase, Beta-Glucanase, and four more enzymes aid in the gentle breakdown of carbohydrates, grains, and starches, as well as their conversion to useful energy. Bacterial, fungal, and acid proteases break down proteins that are essential for a healthy body, including the immune system, tissue, muscle, skin, hair, and nails. Lactase aids in the digestion of dairy products, resulting in less stomach discomfort. Lipase aids optimal organ function by breaking down fats.
Reduces Gas & Bloating – Alpha-Galactosidase aids digestion by breaking down gas-producing carbohydrates and allowing for calm digestion. Hemicellulase is an enzyme that aids in the digestion of soluble fiber present in plants. These beneficial prebiotic fibers promote the healthy microorganisms in your gut. Cellulase breaks down cellulose (plant fiber), easing digestive discomfort and allowing your body to absorb the nutrients found in fruits and vegetables.
Digestive Enzyme – Ingredients
Here are the some active ingredients found in Digestive Enzyme:
Amylase
Diastase
Bacterial Protease
Glucoamylase
Fungal Protease
Alpha-Galactosidase
Lactase
Cellulase
Beta-Glucanase
Lipase
Xylanase
Pectinase
Acid Protease
Phytase
Invertase
Hemicellulase
Customer Service Contact Info
Phone: 888-679-5520 Mon-Fri 5AM-7PM PST Sat-Sun 6AM-4:30PM PST
Email: [email protected]
Address: 30700 Russell Ranch Rd Westlake Village, CA 91362
How Much Does Digestive Enzyme Cost?
Digestive Enzyme is currently only available for purchase on the Nucific website. The following pricing options are available:
1 Bottle: $49.00
3 Bottles: $129.00
6 Bottles: $240.00
Benefits and Drawbacks Of Digestive Enzyme
Benefits
Customer reviews are shown.
There is a 90-day money-back guarantee.
All ingredients for Digestive Enzyme are listed on the product label.
Aids in the maintenance of a healthy weight.
More comfortable digestion.
Drawbacks
It is only available for purchase on their official website.
In A HURRY? Take A Look At Our Editor's Pick Instead!
Nucific Digestive Enzyme – FAQ's
Q: How do I take Digestive Enzyme?
A: Take 1-2 Digestive Enzyme capsules with a full glass of water with each meal for best effects. Take no more than 6 capsules each day. We recommend that you begin by taking one capsule with each meal and wait for results before increasing to two capsules every meal.
It also has a wonderful vanilla flavor with a hint of stevia for a lovely, mellow sweetness.
Q: When can I experience results?
A: Because everyone's body is different, we recommend waiting 60-90 days to reap the full advantages of Digestive Enzyme, which include improved digestion, less gas and bloating, and more. The enzymes may take 1-2 months to properly populate your system, but if you stick to your routine and eat balanced nutritional meals, you should see improvements.
What Do Consumer Says
Digestive enzymes best supplement!
Such a pleasant surprise. I've tried a lot of different digestive stuff in the past. This one seems to be helping me tremendously. Thank you for putting something so well on the market. That really works. I appreciate it. By Terri Hunter
Digestive enzymes work for me.
Digestive enzyme has been working very well. I'm regular and my stools are more formed. I don't feel as bloated as I did before starting the supplements. I'm sure I will continue to feel great By Robert E Bruce
Nucific Digestive Enzymes
I have been taking the digestive enzymes for a month now and find that I am able to digest my food in a more timely manner and I don't get an upset stomach as I used to after eating certain foods. By Dana
All reviews are taken from the official website.
Digestive Enzyme Reviews – Final Words
The Digestive Enzymes supplement from Nucific contains a wide range of vital digestive enzymes. The majority of the customer reviews are positive, and no one has stated any negative comments regarding the product. We like that some supplements have substances that have been researched, that the claims are backed up by positive feedback, and that all of the products come with a warranty.
On the brand's website, you may purchase this item. The manufacturer offers a 90-day money-back guarantee.
Below you'll find some of the most effective Health Supplement formulations on the market today, in our opinion
Our Top Health Supplement Choices*
ConsumerReviews.tv is dedicated to bringing you the best products with the most effective ingredients. Our unique Review Ranking Platform combines our personal experience with online reviews and opinions from over 100 independent review websites.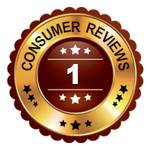 Promotes Weight Management*
5.0/5.0
Supports Healthy Digestion*
4.9/5.0
Boost Energy*
5.0/5.0
Combat Food Cravings*
5.0/5.0
Improves Cognition and Focus*

4.9/5.0
Key Ingredients:
Prebiotic Blend, GI Health Blend, Fermented L-Glutamine, Zinc-Carnosine Complex, Magnesium Beta-Hydroxybutyrate, Deglycyrrhizinated Licorice Root Extract, and Black Pepper Extract
Recommended Uses:
Boost Feelings of Energy and Focus*, Reduce Gas, Bloating*, and Irregularity*
Item Form:
Powder
Volume:
30 Servings
Multi-GI 5 is a new revolutionary formula that promotes five key benefits: enhanced digestion, weight control, higher energy, a healthy GI lining, and balanced gut flora for a refreshed sense of whole-body health. Learn More...
Customer Review:
This is the first product I've bought off an infomercial and kept. I believe it really works in keeping your digestive system running smoothly
By Trav
*Individual Results May Vary
**This is a subjective assessment based on the strength of the available informations and our estimation of efficacy.
*Result may vary. The information contained in this website is provided for general informational purpose. No medical claims are implied in this content, and the information herein is not intended to be used for self diagnosis or self treatment of any condition.
*Disclosure of Material connection: Some of the links in the post above are "associate sales links." This means if you can click on the link and purchase an item, we will receive a commission. Regardless, we only recommend products or services which we use personally and/or believe will add value to our readers. We are disclosing this in accordance with the Federal Trade Commission's 16 CFR, Part 255: "Guides Concerning the Use of Endorsements and Testimonials."