Fact Checked
How We Test Robot Vacuums
Robot vacuums have revolutionized the way we clean our homes, making it easier and more convenient than ever before. These intelligent devices are designed to navigate and clean your floors autonomously, taking the hassle out of manual vacuuming. In this ultimate guide, we will explore the benefits of using a robot vacuum, factors to consider when choosing one, and the top features to look for. Furthermore, we will delve into the process of testing robot vacuums and provide you with our tested and recommended options.
Benefits of using a robot vacuum
Using a robot vacuum offers numerous benefits that go beyond just saving time and effort. Firstly, these devices are incredibly efficient at cleaning your floors. Equipped with advanced sensors and mapping technology, robot vacuums can navigate through your home, reaching every nook and cranny to ensure a thorough clean. They are particularly effective at removing dust, dirt, pet hair, and allergens, making your home a healthier environment.
In addition to their cleaning prowess, Robot Vacuums are also highly convenient. Most models can be programmed to clean on a schedule, allowing you to set it and forget it. Imagine coming home to a spotless floor every day without lifting a finger! Moreover, robot vacuums are designed to fit under furniture and can easily maneuver around obstacles, ensuring that every corner of your home is cleaned.
Factors to consider when choosing a robot vacuum
With a wide range of robot vacuums available on the market, it's important to consider certain factors to ensure you find the best one for your needs. One crucial factor is the size of your home and the type of flooring you have. Some robot vacuums are better suited for larger homes with multiple rooms, while others are more suitable for smaller spaces.
Another important consideration is the battery life of the robot vacuum. You want a device that can clean your entire home without needing frequent recharging. Additionally, look for a robot vacuum with a large dustbin capacity, as this will minimize the need for frequent emptying during cleaning sessions.
Furthermore, consider the level of control and customization offered by the robot vacuum. Look for devices that come with user-friendly apps or remote controls, allowing you to easily schedule cleanings, adjust cleaning modes, and control the device even when you're away from home.
Top features to look for in a robot vacuum
When choosing a robot vacuum, there are several key features that you should prioritize. Firstly, consider the cleaning performance of the device. Look for robot vacuums equipped with powerful suction and efficient brush systems that can effectively remove dirt and debris from various floor types, including carpets and hard floors.
Navigation and obstacle avoidance capabilities are also crucial. Advanced robot vacuums utilize sensors and mapping technology to intelligently navigate your home, avoiding obstacles such as furniture, cords, and pets. Some models even have the ability to map your home, allowing for more efficient cleaning and the creation of virtual boundaries.
Additionally, consider the connectivity options and smart features of the robot vacuum. Many models can be connected to your smartphone or smart home devices, allowing for convenient control and integration into your existing smart home ecosystem. Look for features such as voice control compatibility and integration with virtual assistants like Amazon Alexa or Google Assistant.
The process of testing robot vacuums
To ensure the accuracy and reliability of our recommendations, our team follows a rigorous testing process when evaluating robot vacuums. The process typically involves the following steps.
Setup and ease of use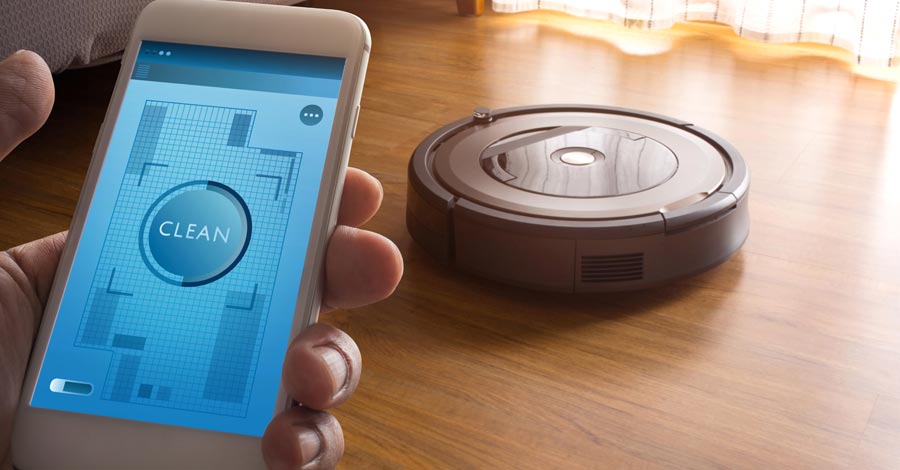 Our testers evaluate how easy it is to set up the robot vacuum. This includes installing side brushes, charging the device, and connecting it to the accompanying app or remote control. We also assess the user-friendliness of the device, including the ease of setting up cleaning schedules and choosing different cleaning modes.
Navigation and obstacle avoidance
We thoroughly test the robot vacuum's ability to navigate around a room and avoid obstacles. This includes assessing its performance in maneuvering around furniture, cords, and other potential obstructions. We also evaluate how well the robot vacuum can climb thresholds and clean under furniture to ensure a comprehensive cleaning experience.
Dirt pickup
To evaluate the dirt pickup performance of the robot vacuum, we spread a known amount of dirt on different flooring types, such as hard floors and carpets. We then run the robot vacuum over the area and weigh the dustbin before and after cleaning. This allows us to determine the percentage of dirt that was effectively picked up by the device.
Pet hair removal
For robot vacuums designed to remove pet hair, we conduct specific tests to assess their performance. We spread a known amount of pet hair on different flooring surfaces and run the robot vacuum over the area. Our testers visually inspect the floor to determine the effectiveness of pet hair removal.
Battery life and noise level
We record the amount of time it takes for the robot vacuum to run out of battery, providing valuable insights into its battery life performance. Additionally, we measure the noise level of the device while it is running, taking into consideration the impact it may have on your living environment.
Overall performance rating
After considering all the above factors, our testers provide an overall performance rating for each robot vacuum. This rating takes into account the device's cleaning efficiency, navigation capabilities, ease of use, and additional features. It serves as a comprehensive assessment to help you make an informed decision.
Conclusion
Finding the best robot vacuum for your home can make a significant difference in your cleaning routine. The convenience, efficiency, and advanced features offered by these devices can truly transform the way you maintain a clean and healthy living space. By considering the factors outlined in this guide and taking advantage of our tested and recommended options, you can confidently choose the perfect robot vacuum that meets your needs and exceeds your expectations.