We looked into Antarctic Krill on the basis of its ingredients, customer reviews, and more. Does Antarctic Krill really work? Read the Antarctic Krill review here!
What Is Antarctic Krill?
Antarctic Krill is an easy-to-use source of omega-3s that can promote a healthy heart, brain, bones, joints, and eyes from the depths of the frozen antarctic waters. It's exactly what you need to live young in terms of thinking, looking, and performing.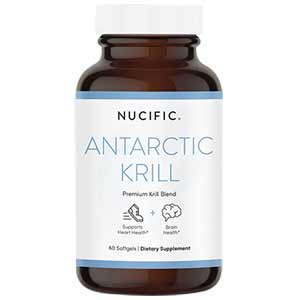 How Does Antarctic Krill Work?
Omega-3 fatty acids, a healthy unsaturated fat your body needed to promote heart and blood vessel function, which are abundant in our proprietary blend of pure krill oil and nutrient-rich fish oil.
Astaxanthin – is a potent antioxidant that maintains healthy cells throughout your body and aids in their defense against free radical damage.
The omega-3 fatty acids found in krill and fish oils are essential for normal brain function since they are a vital component of brain cell membranes.
Antarctic Krill – Ingredients
Here are the some active ingredients found in Antarctic Krill:
Premium Krill Oil
Phospholipids
Total Omega 3 Fatty Acids
EPA (Eicosapenteanoic acid)
DHA (Docosahexaenoic acid)
Esterified astaxanthin
Other ingredients: Antarctic Krill (Euphausia Superba) Oil, Gel Shell (Gelatin, Glycerin, Sorbitol, Purified Water), Fish Oil, Microalgae (Haematococcus Pluvialis) Astaxanthin oil contains crustacean shellfish (Krill) and Fish (Anchovy, Sardine).
Customer Service Contact Info
Phone: 888-679-5520 Mon-Fri 5AM-7PM PST Sat-Sun 6AM-4:30PM PST
Email: [email protected]
Address: 30700 Russell Ranch Rd Westlake Village, CA 91362
How Much Does Antarctic Krill Cost?
Antarctic Krill is currently only available for purchase on the Nucific website. The following pricing options are available:
1 Bottle: $39.00
3 Bottles: $102.96
6 Bottles: $191.88
Benefits and Drawbacks Of Antarctic Krill
Benefits
Customer reviews are shown.
There is a 90-day money-back guarantee.
All ingredients for Antarctic Krill are listed on the product label.
Support for a heart, brain, bones, joints, and eyes that are healthy.
Helps you in performing at a younger age.
Drawbacks
It is only available for purchase on their official website.
Antarctic Krill – FAQ's
Q: What if I am allergic to shellfish?
A: Because krill is a type of shellfish, anyone who is allergic to shellfish should see their doctor before using this supplement.
Q: What makes Nucific Antarctic Krill better than what else is on the market?
A: Antarctic Krill Blend provides SEVEN TIMES the amount of astaxanthin found in Krill Oil alone, at 1.5 mg per serving. Astaxanthin is a potent antioxidant that can aid the body fight cell oxidation and the formation of free radicals.
Furthermore, because Krill Oil phospholipids absorb faster than fish triglycerides, Antarctic Krill is combined with Fish Oil, allowing the Omega-3 in the fish oil to link with the phospholipids in the Krill Oil.
This indicates that Antarctic Krill Blend has a higher Omega-3 absorption rate than many other Omega-3 supplements on the market.
Q: How do I take Antarctic Krill?
A: Take one soft gel, preferably with a meal, twice a day.
Q: Is Antarctic Krill good for you?
A: The omega-3s in krill oil have been found in studies to help reduce heart attacks and strokes. Krill oil has also been shown to help lower blood pressure and lipid levels, both of which are risk factors for heart disease.
Q: Where is Antarctic Krill made?
A: Nucific Antarctic Krill (500mg) is an Omega-3 Krill Oil supplement that supports heart health by providing Omega-3 fatty acids. It's created with pure krill oil extracted directly from Antarctica's krill. Nucific Antarctic Krill is a high-quality source of EPA and DHA Omega-3 fatty acids that don't have a fishy aftertaste.
Q: What is Antarctic Krill?
A: Krill oil is derived from the bodies of Antarctic krill, which are tiny shrimp-like shellfish. It is available in capsule form. Krill oil capsules contain the omega-3 fatty acids eicosapentaenoic acid (EPA) and docosahexaenoic acid (DHA), just like fatty fish and fish oil supplements (DHA).

What Do Consumer Says
Easy to take
Like the Krill Oil as there's no after taste and I feel good after taking. So many products out there without no way to truly vet them for the best choice. I like this Antarctic Krill I've ordered from this company! By Joan Marie Pate
Antarctic Krill
Your Krill is a quality product with significant health benefits. I use it in conjunction with flaxseed oil because they represent different types of Omega 3s. There are a lot of krill supplements out there that are not high quality. Yours is very very solid By Brig Summers
Antarctic Krill Is Amazing
For years I suffered through an upset stomach with taking fish oil supplements, No MORE! Antarctic Krill by Nucfic has no icky aftertaste, my joints feel better and when I don't take it, I sure notice the difference. I would 100% recommend this product. By Cindy Hutchings
All reviews are taken from the official website.
Antarctic Krill Reviews – Final Words
Antarctic Krill is a health supplement that provides Omega-3s, which are essential for a healthy heart, brain, improved focus, and general well-being. In addition to making you feel, look, and perform younger, the supplement may considerably enhance your energy and metabolism.
Environmental variables in the supplement may appeal to some consumers, and they aid to shorten the time it takes to get visible results from using it.
This item is available for purchase on the brand's website. A 90-day money-back guarantee is offered by the manufacturer.