Introduction
There are some best anti-aging creams that are specifically designed for aging skin. These creams help in reducing wrinkles and deliver new cells to the skin.
A wide variety of best anti-aging products are available in the market these days. These products are being manufactured by different reputed brands which claim that their product is best for your skin.
The best way to ensure that you get the right product is to do your research before buying it.
With advancements in beauty technology, there is a multitude of anti-aging creams that address the different needs of people.
Here at Consumer Reviews, we've evaluated hundreds of products through a scientific lens to assure you're developing a safe and effective skincare regimen. This article will help you find the best anti-aging cream for your skin type and budget.
What Are Anti-Aging Skin Care Products?
While it may seem self-evident, a simple definition can sometimes help to clarify what anti-aging products are.
"Anti-aging skincare products are developed to help reduce obvious indications of skin aging like wrinkles, fine lines, leathery skin, and dark spots," said Dr. Dendy Engelman, a dermatologist in New York City and spokeswoman for The Skin Cancer Foundation. "They can be preventive or they can work to lessen existing indications of aging."
How To Choose the Best Anti-Aging Cream
A lot of factors can affect the effectiveness of a particular anti-aging cream. So how do you choose the best cream? There are two major factors that play a role in determining the effectiveness of an anti-aging cream. The first factor is the ingredients used by the product and the second is your skin type.
Some key ingredients that are found in most anti-aging creams are retinoids [1], peptides, antioxidants, hyaluronic acid, ceramides, and Shea butter.
Retinoids are known as Vitamin A derivatives [2] and they help repair cell damage caused by UV rays to protect against wrinkles and fine lines caused by age or other factors.
Peptides are used to stimulate collagen production [3] and even skin tone.
Antioxidants are substances that protect the skin by neutralizing the free radicals that can damage cells. Ceramides are lipid molecules that are essential for healthy skin, hair, and cell membranes. Shea butter has natural vitamins A, D, F, E which can promote the healing of damaged skin cells.
RELATED: Anti-Wrinkle Creams Review – How To Choose The Best Wrinkle Cream That Works
How to Get the Most Out of Your Anti-Aging Creams and Serums
Layer in the correct order: You want your products to function together rather than against each other. "Unless otherwise specified, apply anti-aging creams after all other skincare products—except your daily sunscreen," advises Dr. Schlessinger. For example, applying the cream before a gel or serum may hinder them from reaching the skin adequately.
Make sure the ingredients get along: Many of us layer cosmetics in the hopes of increasing the active elements that would benefit our skin, but we may really be deactivating them by mixing components that clash—retinoids are an excellent example of this.
"Alpha hydroxy acids and benzoyl peroxide typically destroy retinoids, which are some of the most proven topical treatments for anti-aging," explains Hadley King, M.D., clinical instructor of dermatology at Cornell University's Weill Medical College. "So if you're stacking products and one of them contains AHA and the other contains a retinoid, the retinoid may not assist you at all." (Sun exposure also degrades them, which is why they're commonly included in night creams.)
Exfoliate: Oiliness and dead skin cells can clog pores and prevent product penetration, according to Dr. Schlessinger, who recommends exfoliating once a week to get the most out of your anti-aging treatments.
Store your products properly: "When you don't store your anti-aging products in the right spot, their efficacy is diminished," says Dr. Lankerani. Products containing active chemicals, such as retinol and vitamin C, should be stored in a dark, cool area to prevent the active ingredients from degrading.
Be patient: "While the time it takes to see visible results varies by product, for most anti-aging creams, I recommend waiting 12 weeks to see results," says Dr. Schlessinger.
Best Anti-Aging Cream, According to Your Skin Type
To choose the best anti-aging cream for your skin type, you need to know the different types and their common characteristics.
Dry Skin: Dry skin is characterized by an increased number of cells which can make it more likely to form wrinkles. There is also less sebum produced [4] due to the lack of oil glands which make it prone to dryness.
Oily and Sensitive Skin: Oily and sensitive skin is often accompanied by excess sebum production, clogged pores, inflammation, and more sensitivity to pain.
Consider your skin type as you read through ingredient listings.
Consider retinol creams for acne-prone skin if you want to attack wrinkles and acne at the same time.
Look for items that are lightweight and oil-free if you have oily skin. Retinoids are also a great choice for oily skin because they can help with fine lines and wrinkles by removing some of the oil.
Consider wrinkle treatments that promise to provide an extra dose of hydration if you have dry skin. It's still a good idea to look for non-comedogenic choices to avoid clogging your pores with all that extra moisture.
if you have sensitive or combination skin? Avoid alternatives that contain scents or alcohol.
If you have rosacea, you should avoid retinol and vitamin C as well. When administered, vitamin C can hurt, and retinol can aggravate rosacea. Look for rosacea-specific products or consult a physician for recommendations.
Finally, be aware that heavier night creams have the potential to block pores. To avoid this, look for products that are labeled noncomedogenic, regardless of your skin type.
Time Constraints
Before you buy, make sure it's a product you'll actually utilize. Many people make the mistake of investing a lot of money on a skincare system that has a lot of items and requires more time than their lifestyle allows.
Budget
The most expensive wrinkle creams aren't always the most effective. There are solutions for any budget, so you don't have to spend a fortune to obtain excellent results.
Sellers
We've already said it, but it bears repeating: checking seller feedback can help you avoid purchasing fake items. The vendor and the manufacturer are not always the same person. If you have any concerns, purchase directly from the manufacturer in-store or online, or seek advice from a dermatologist.
Allergies and sensitivities
If you have sensitive skin, seek a fragrance-free or hypoallergenic product.
Tips for Using Anti Aging Cream
Use sunscreen:

creams for anti-aging Don't use it as a substitute for sunscreen. When you're going to be in the sun, wear sunscreen in addition to your facial cream. Use a broad-spectrum sunscreen that protects against both UVB and UVA radiation. UVA rays can cause the skin to age prematurely.

Follow the product's directions. Some anti-aging creams are intended to be applied at night or during the day. Others are made to be used twice a day.
Consider how much to use. You may have to experiment with the amount of cream that you use. Too much, and your skin can't absorb it and will feel greasy. Too little, and you may not reap the full benefits. Try using a small dab at first, and see how your skin responds.
Go easy on retinoids.

You might need to play around with the amount of cream you use. If you use too much, your skin won't be able to absorb it and will feel oily. If you take too little, you may not be able to reap the full benefits. To begin, use a small dab and see how your skin reacts.

Store it properly.

Even if it gets humid, most anti-aging treatments can be kept in a medicine cabinet or bathroom shelf. Keep a close watch on the time. If a cream has passed its expiration date, do not use it. Also, if the aroma changes, don't use the product because it could be spoiled.

Check the packaging.

The way certain items are packaged and how it impacts the product's performance and shelf life have caused some dissatisfaction in the beauty world. It's critical, for example, that retinol and vitamin C products are packaged in tinted or dark glass bottles. These items can swiftly decay if they are exposed to light, air, or heat. To obtain the most performance and shelf life out of your product, look for those who use dark, tinted bottles with airless pumps.

Give it time.

Even the best anti-aging cream won't give you big effects right away.
Safety Considerations
To help consumers get the most out of their aging support products, the AAD suggests the following:
Start with one product, as using several at once might irritate the skin and make aging indications more visible.
If a product irritates your skin, consult a dermatologist. Follow a doctor's advice on how to use a product to avoid clogged pores and dryness.
Avoid sunbathing because it might cause wrinkles and dark patches.
Use sunscreen to avoid early symptoms of aging and the danger of skin cancer.
If a product bothers someone, they should stop using it right away. It is possible to avoid irritation by gradually introducing a new product to the skin. People can undertake a patch test on their inner arm to see if they react before using a small amount on a bigger region.
Market Statistics of Anti-Aging Products
The Anti Aging Cream and Anti-Wrinkles creams come up with enhanced properties, such as skin treatment (skin aging like wrinkles, fine lines), moisture control, and sun protection, which will strengthen the sales of anti-aging and anti-wrinkle products during the forecast period (2020-2027).
In addition, the popularity of premium and branded products will continue to grow in the anti-aging and anti-wrinkle product market, as consumers tend to incline towards quality skincare products.
According to FactMR, due to the positive impact of market trends, the anti-aging and anti-wrinkle product market is expected to reach a value of US$ 14 billion by 2027.
READ NEXT: Anti-Aging Products Review – How To Select The Best Anti-Aging Skin Care Products
Best Anti-Aging Cream – The Research
There is a lot of research that says that the best anti-aging cream is the one that contains retinol.
You can talk with your dermatologist about ingredients to look for or avoid. The way different additives affect skin will vary from person to person.
As we age the composition, texture and appearance of our skin changes. Signs of skin aging include wrinkles, fine lines, loss of moisture, uneven tone, and dull, tired-looking skin. There are countless anti-wrinkle creams on the market promising to make skin look and feel younger. Many anti-wrinkle creams promise everything short of a facelift or to provide the much sought after "fountain of youth". In reality most are just moisturizers marketed as anti-aging products.
Below you'll find some of the most effective wrinkle serum/cream formulations on the market today, in our opinion
Our Top Anti-Aging Product & Wrinkle Cream Choices*
ConsumerReviews.tv is dedicated to bringing you the best products with the most effective ingredients. Our unique Review Ranking Platform combines our personal experience with online reviews and opinions from over 100 independent review websites.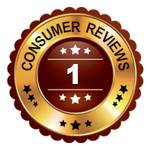 Diminishes Wrinkles & Dullness*
5.0/5.0
Reduces Sagging or Drooping*
5.0/5.0
Improves Hair & Nails Strength*
4.8/5.0
Enhances Skin Elasticity*
5.0/5.0
Overall Customer Happiness*

4.9/5.0
Key Ingredients:
Saw Palmetto, MSM, Hydrolyzed Collagen, Hyaluronic Acid, Vitamin B
Recommended Uses:
Signs of Aging, Wrinkles, and Skin, Dullness
Item Form:
Capsules
Volume:
60 Capsules
Beverly Hills MD Dermal Repair Complex is an all-natural dietary supplement that works to revitalize skin from the inside out. Formulated using an advanced blend of scientifically-backed nutrients, Dermal Repair Complex helps combat the key causes of dermal breakdown — resulting in visibly firmer, more lifted skin, reduced wrinkles, enhanced radiance, and a significantly younger, healthier appearance overall. Learn More...
Customer Review:
"I'm so in love with the Dermal Repair Complex supplements. I never skip a day using them. My skin is noticeably firmer and younger-looking. I'm soon to be 50 years old and was noticing sagging and dullness to my skin. I now look in the mirror and see a complete difference in the texture and appearance of my skin. When I touch the skin on my face, there's a little bounce to it. It's a remarkable difference. People are commenting on how great I look all the time, not knowing what exactly looks different about me. I no longer look tired and old. Thank you so much for introducing this great product. I'm so happy to have found it."
By Ericca W
*Individual Results May Vary
Eliminate Fine Lines*
5.0/5.0
Evens Skin Tone*
5.0/5.0
Slow Down Signs of Aging*
4.8/5.0
Diminishes Crows Feet*
5.0/5.0
Minimizes Dark Circles*

4.8/5.0
Key Ingredients:
Yn-Coll, Hyaluronic Acid, Cyclopentasiloxane, Glycerin, Shea Butter, Vitamins, Antioxidants
Recommended Uses:
Help with Photoaging Caused By Sun Damage, Protects Against Wrinkles Caused by Glycation, Reduces Dark Under Eye Circle, Puffiness & Crows Feet
Item Form:
Cream
Volume:
2.0fl.oz (60 ml)
Kollagen Intensiv is a skincare solution that helps you attain smooth, young skin by preventing the main signs of aging. Learn More...
Customer Review:
"Yes, I have been using Kollagen Intensiv for three months. I have seen an improvement on my crow's feet and the sunspots on my face are much lighter."
By Cindy M
*Individual Results May Vary
Softens Fine Lines*
5.0/5.0
Reduces Discoloration*
5.0/5.0
Plumps Damaged Skin*
4.8/5.0
Smoothes Complexion*
5.0/5.0
Get Rid of Wrinkles*

4.8/5.0
Key Ingredients:
Argireline, Hyaluronic Acid, Hydrolyzed Collagen
Recommended Uses:
Fine Lines and Wrinkles, Dark Spots, Under Eye Bags
Item Form:
Serum
Volume:
0.5 fl.oz (15 ml)
Skinception - Instant Wrinkle Reducer is a skincare product that improves the firmness of the skin. It's designed to help with skin hydration, which improves skin firmness and elasticity. Learn More...
Customer Review:
"Certainly is all they make it out to be. Removes wrinkles instantly. I have never had another product like this."
By Paula
*Individual Results May Vary
**This is a subjective assessment based on the strength of the available informations and our estimation of efficacy.
*Result may vary. The information contained in this website is provided for general informational purpose. No medical claims are implied in this content, and the information herein is not intended to be used for self diagnosis or self treatment of any condition.
*Disclosure of Material connection: Some of the links in the post above are "associate sales links." This means if you can click on the link and purchase an item, we will receive a commission. Regardless, we only recommend products or services which we use personally and/or believe will add value to our readers. We are disclosing this in accordance with the Federal Trade Commission's 16 CFR, Part 255: "Guides Concerning the Use of Endorsements and Testimonials."